As an avid weightlifter, your muscles work hard. You want to continue to develop your strength and overall lifting technique safely and effectively. Instead of investing in expensive equipment, there's a better solution.
Yoga is an excellent complement for a wide range of athletics, especially weightlifting. It is a simple but powerful way to prevent injury, stretch safely, and improve your overall health and mobility.
This article will explore the wide range of benefits yoga offers weight lifters as well as the best yoga poses to do immediately before and after you lift. Plus we'll dive into how yoga can promote active recovery on your rest days.
The Benefits of Yoga for Weightlifting
Yoga is an excellent form of exercise and stretching. When combined with your weight training regimen, it can help improve your overall performance in a wide variety of ways.
Flexibility and Mobility
As you build strength the muscles contract and shorten over time. Without properly stretching your muscles, you risk pulling a muscle or experiencing a more severe injury. Yoga helps to elongate the muscles, especially in the upper body like the shoulders and back where weightlifters most commonly experience injury. Yoga can also reduce tightness and enhance your mobility. This is especially helpful for shoulder blade rotation that allows you to lift your arms up overhead smoothly and without pain.
Maximize Strength
Strength is one of the main goals of weight lifting. However, if you aren't challenging your muscles in different ways, you'll likely hit a plateau in your strength development. Yoga offers a much-needed balance. Using your own body weight in your yoga practice can help to engage the muscles of the upper back and shoulders in new ways. Plus, you'll also build core strength and develop the stabilizing muscles to improve your balance, ultimately helping you lift better and stronger.
Better Muscle Recovery
Getting stronger isn't just about working out more or harder. Without the right balance, your efforts to grow stronger may stall out no matter how hard you try at the gym or how many reps you squeeze in.
In reality, strength builds after your workout when the muscles mend. You must rest to make the most of every single workout. Yoga is an excellent form of active recovery so you don't go too stir crazy on your rest days!
Yoga can ease sore muscles and break up lactic acid after a heavy weight training day. It is also a great way to increase blood flow to oxygenate your muscles. This helps them perform more efficiently.
Improved Posture
Maintaining the natural curve of the spine is a high priority during weight lifting. If your core isn't strong enough, however, the spine can easily move out of alignment causing unsafe pressure and strain on your spine and muscles. Yoga prioritizes postural awareness and core strength as you move through poses so that you feel strong and safe in every single power lift.
Mental Discipline
Weight lifting isn't only demanding on the physical body, but it also challenges the mind. Taking care of your mental health is important so that you can stay sharp, focused, positive, and healthy. It can be easy to criticize yourself when you don't meet your goals right away. Instead of beating yourself up or giving up on your goals altogether, yoga can help you keep things in perspective. Through movement, breathwork, focus, and discipline, yoga has been linked to reduced anxiety and stress. As a weight lifter, yoga will help you to challenge yourself while also navigating the successes and failures that come with pushing yourself to reach new levels of strength and fitness.
Best Yoga Poses for Weight Lifting
The best part about yoga is it can be a really simple addition to your weight lifting regimen. No need to dedicate hours on end to your yoga practice on top of your gym time. Simply practicing a few poses before or after your training time or on recovery days can make a significant difference in your fitness goals.
Which Yoga Poses Are Best To Practice Before Lifting?
Before you lift you want to start to activate the muscles throughout the body. This will help you protect the muscles, warm up your body, and ensure your range of motion is fully tapped into before you pick up a single weight!
Chair Pose
Chair pose will engage your muscles so they are warm and ready to stabilize you as you lift. It also fires up your core muscles to protect your spine and improve your overall balance. It also helps develop mobility in your shoulder rotation in the upper body.
How to get into chair pose:
Start in a standing position. Separate your feet about hips-width distance apart. Reach your arms overhead in line with your ears and spiral your pinky fingers in to bring a slight rotation into the shoulders. Maintaining a straight spine as you sit back (like sitting back into a chair). Keep your weight shifted slightly back into your toes. On each inhale, reach higher. On every exhale sit a little bit deeper or maintain your current depth while activating the glutes, quads, and hamstrings. Hold for several breaths.
Warrior 3 Pose
Balance is essential to your weight lifting regimen. Balance can help you find control during challenging movements and exercises. It can also improve your agility, reaction times, and overall performance. Warrior 3 is an excellent way to develop this while also tending to your core strength and working the upper body.
How to get into Warrior 3 Pose:
Begin standing at the center of your mat. Take a step forward onto your right foot and reach your arms up, palms facing each other. On an exhale begin to hinge forward from the hips until your torso is parallel to the floor. Keep your standing leg straight, engage your core, and continue to keep your arms lifted in line with your ears. Hold for several breaths and then switch sides.
Puppy Pose
Puppy pose is an excellent option for developing mobility and opening up your shoulders before you lift. Range of motion is so important when weightlifting. This posture allows the shoulders to externally rotate while offering a controlled stretch.
How to get in to Puppy Pose:
Start in a tabletop position on your mat. End your arms straight in front of you, shoulders-width apart, palms flat on the mat with a yoga block in between or two blocks, one under each palm. Rest your forehead on the mat. Bring your hips back toward your heels until they are stacked directly over your knees. Keep the arms reaching forward and stay for a few breaths. When you're ready, hold one yoga block between your palms, lift the block, and bend the elbows back. Press your chest actively towards the floor, and breathe deeply as you open the shoulders and release tension in the neck.
Which Yoga Postures Should I Practice After Weightlifting?
Yoga is an ideal way to cool the body down after lifting to relax the muscles, slow the heart rate, and tend to the spine. Just a few minutes of yoga right after you lift can make a significant difference in your overall recovery and strength building.
Cat-Cow Pose
Weight training can put a lot of pressure on the spine. It's important to neutralize it after your workouts. Cat-Cow Pose is great for the health and mobility of your spine plus it allows you to open your chest and stretch the muscles of your back that support the spine.
How to get into Cat-Cow pose:
Start on all fours with a neutral spine, palms flat. Keep your shoulders stacked over your wrists and hips stacked over your ankles. You may keep your toes tucked or untucked depending on your preference. On each inhale, smoothly lift your gaze and your chest while you lift your tailbone. On every exhale, pull the navel into the spine, press the floor away from you, bring your chin in toward your chest, and tuck your tailbone under, doming the spine. Move through each motion, one breath, one movement. Cycle through 5-10 times.
Wide Leg Forward Fold
Bringing the head below the heart into a gentle inversion helps to slow the heart rate down as you cool off. It reduces pressure in the low back while stretching the hamstrings and lengthening the spine.
How to get into a wide leg forward fold:
From a stunning position, step your feet wide, about 3-4 feet apart. Keep your feet parallel to one another. With a straight spine, slowly hinge forward at the hips and bring the palms to touch the mat or a yoga block. Bend your knees as much as needed to comfortably fold forward. Over time you may work to straighten the legs as your flexibility develops. Allow the crown of your head to relax down toward the mat. Hold for 3-5 breaths or about 30 seconds before engaging your core to slowly rise with a flat spine.
Legs Up The Wall
This simple posture is more powerful than many realize. Legs Up The Wall pose helps to reverse the blood flow which is great for reducing stress. Plus, it allows the lymphatic system to drain any toxins in the body.
How to get into Legs Up The Wall:
This posture is exactly what it sounds like! After your workout, find a wall nearby. Get your bottom close to the wall and kick your legs up while lying on your back. You might put a bolster or a blanket under your lower back for additional support. Keep your arms alongside the body. Hold for 5-10 minutes to reap the full benefits. Breathe deeply.
Which Yoga Poses Help Weightlifters On Recovery Days?
As a weightlifter, you know the importance of taking a day off to let your body rest and recover. However, most weightlifters don't do this!
Why?
Because it's hard to sit still!
This is where yoga steps in. Yoga allows you to be active in a mindful way so that your body can still heal and rest without driving you stir-crazy! Here are our favorite ways to actively recover on your weightlifting rest days.
Sun Salutations
One of the most unique features of yoga is the opportunity to "flow" seamlessly from one posture to another. The most classic yoga flows are the Sun Salutations A and B. A is a great place to start on your recovery days because it can be as gentle or challenging as you desire. The movement helps to build heat in the body so that your muscles are warm and ready for any deep stretching.
How to move through Sun Salutation A:
Start standing at the top of your mat. Inhale, reach your arms up. Exhale, forward fold. Inhale halfway lift, lengthening the spine flat. Exhale fold. Inhale step or hop back to plank pose. Exhale slowly lower into a yoga push-up or lower your abdomen to the floor. Inhale lift into upward dog pose or a baby cobra pose to open the chest. Exhale press back into downward dog. Inhale, hop, step, or lightly jump to the top of your mat and find a forward fold. Inhale halfway lift to lengthen the spine. Exhale Fold. Inhale to engage your core to rise up with a flat spine. Stand tall in mountain pose. Repeat 3-5 times to warm the body. Move at your own pace, focusing on alignment and consistent breathing.
Locust Pose
Locust pose strengthens the back, core, legs, and arms so it is a great way to actively recover when you're not in the gym while still ensuring you're firing all of the essential muscle groups. It is excellent for your posture (a great counter to sitting all day) and can prevent or reduce lower back pain.
How to get into Locust Pose:
Start on your abdomen with your legs together and your arms alongside the body, palms face down. Point your toes and actively press the toenail into the floor to engage your quads and glutes. On an inhale lift your head, chest, arms, and legs. Arms and legs continuously reach back and up, palm facing the mat. Squeeze the shoulder blades together. To deepen the shoulder opener, you may explore interlacing your fingers behind your back and pressing your grip back and up. Hold for several breaths. To come out, slowly release.
Bridge Pose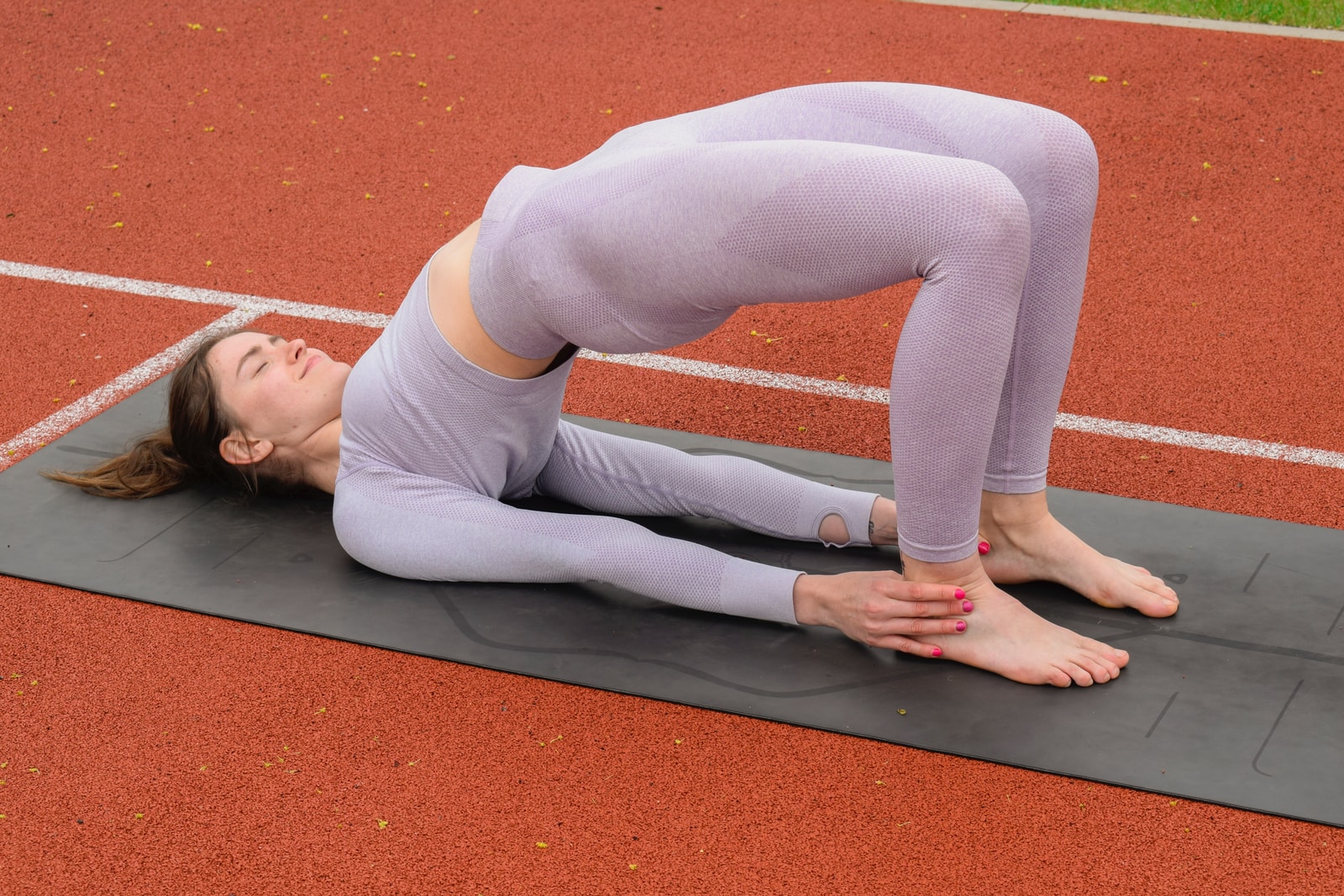 Bridge Pose is an excellent posture for rest days. It opens the front body including the abdomen, hips, and chest while engaging the glutes and hamstrings. You can even get the upper body involved by activating the triceps.
How to get into Bridge Pose:
Start on your back. Bend your knees to bring your heels in toward your bottom. Press into the heels and the palms as you lift the hips up. Keep knees hips-width distance apart. Make sure pressure is in the shoulders and not the neck. To open the chest more, walk the shoulders together and interlace the fingers behind your back. Press your grip into the mat as you continue to lift your hips up. Hold for several breaths and slowly come out. Counter this movement by hugging your knees into your chest. Repeat 2 more times as needed.
Summing it up
We hope you'll give these yoga postures a try! Incorporating yoga before and after your workout can provide you with numerous benefits, ultimately allowing you to become a stronger and more effective lifter. Yoga can also encourage you to stick to those rest days so your muscles can properly recover.
If you're looking for more support, Ideas and guidance, we've got you covered. We offer a wide range of on-demand yoga classes. In just 20 minutes or less, you can build a foundational practice to support your lifting goals.
Our Yoga Edge program was designed with athletes like you in mind to help you restore, recover, and rejuvenate.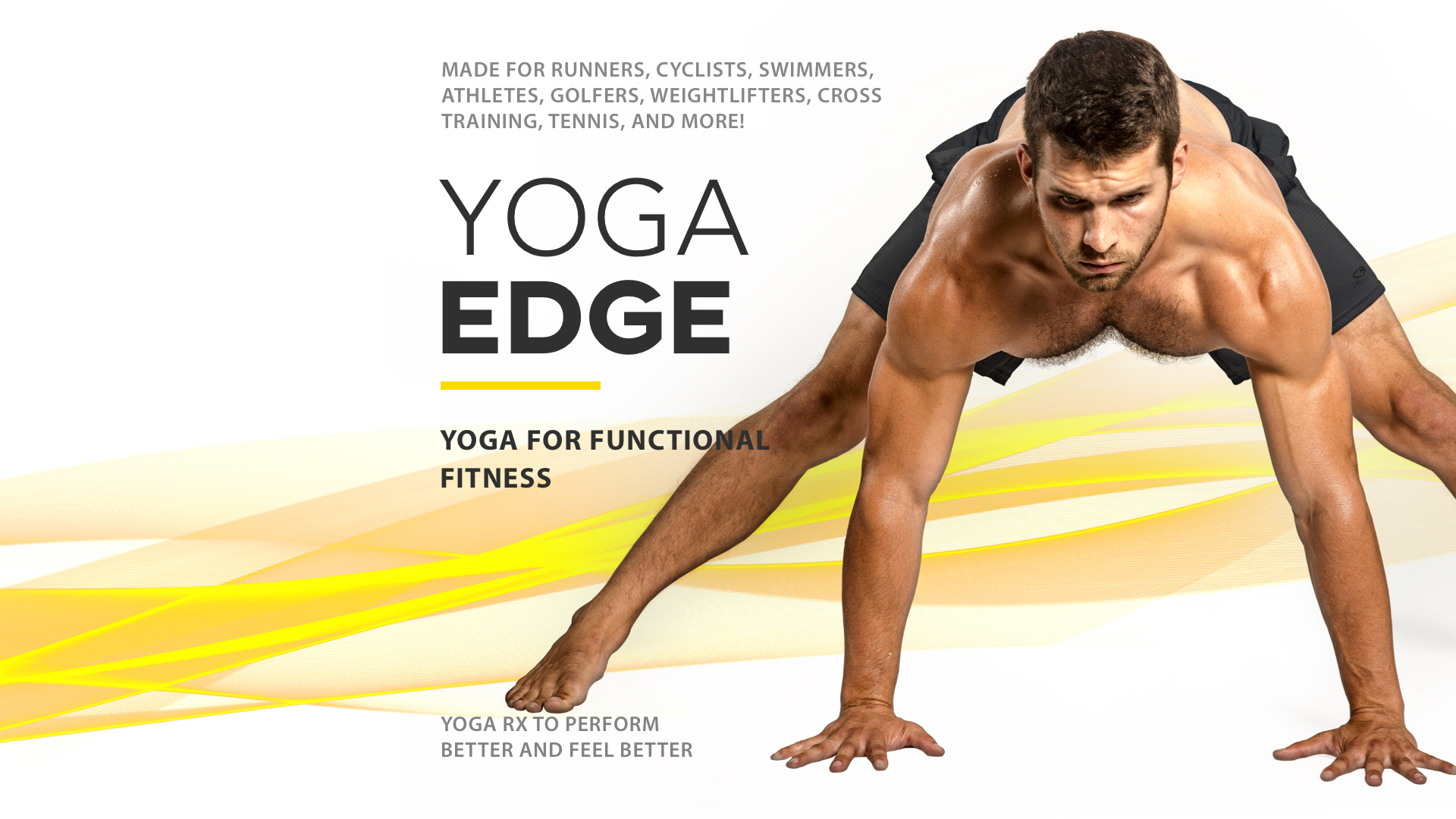 If mobility is your goal, our Yoga Release classes show you how to use foam rollers to correct muscle imbalances, improve joint range of motion, and relieve muscle soreness and stress.
We look forward to helping you develop both your physical strength and mental toughness through the power of yoga and functional movement.
See you on the mat!