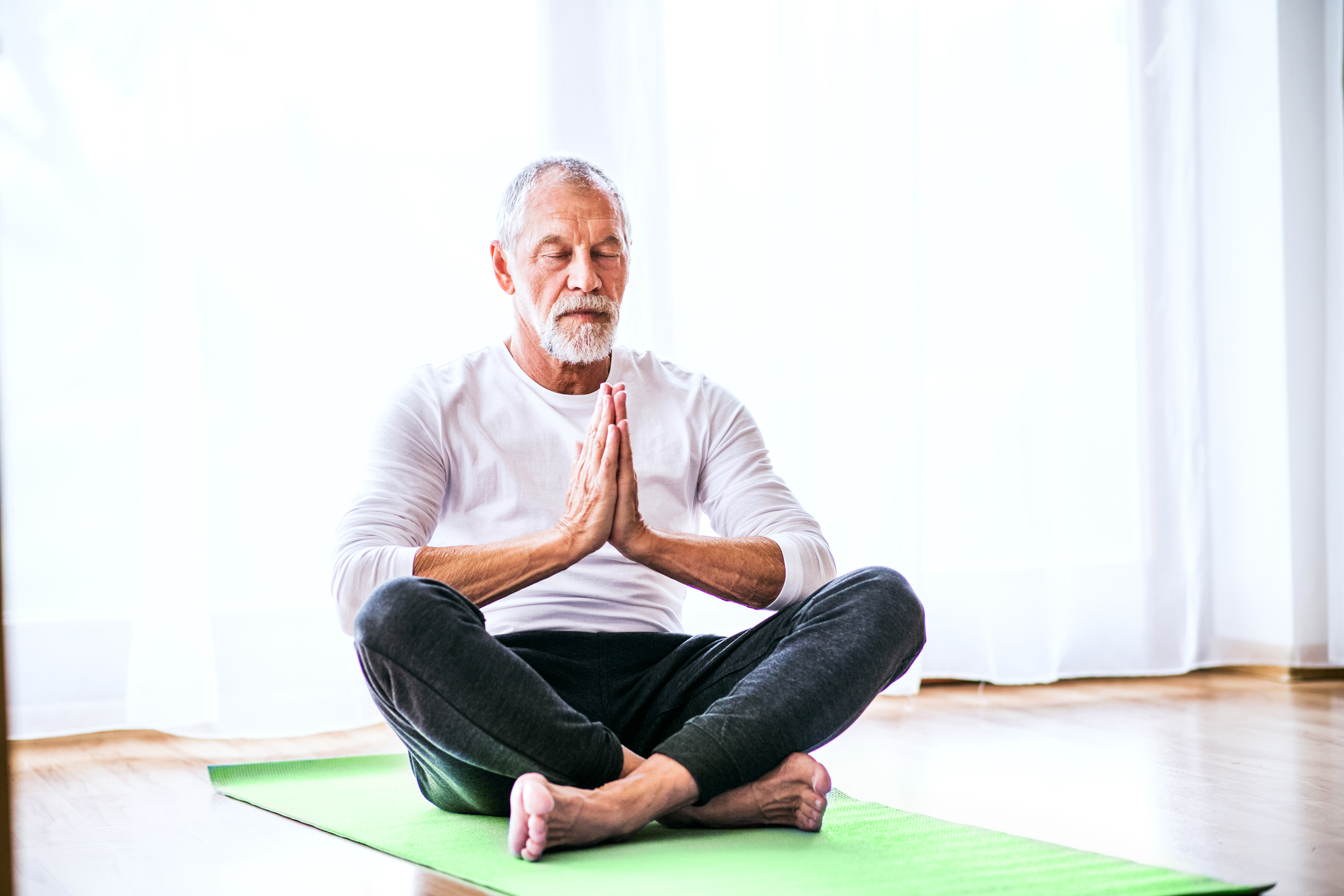 Yoga Vitality is a program that we created for healthy aging.
While we can't reverse aging . . . yet . . . we can still help you get back your mobility so that you can pursue your favorite activities without the stiffness and pain that usually follows you for days . . . push yourself without the fear of injury . . . wake up feeling limber and refreshed . . . enjoy spending time with loved ones without the nagging back pain . . . and so that you can feel younger.
We've already helped thousands of men and women.
Now it's your turn.
It's time to get your freedom back.
Here's how Yoga Vitality works
Yoga Vitality comes with 4 workouts in ascending difficulty.
Workout 1. Yoga Core
Workout 2. Yoga Move
Workout 3. Yoga Balance
Workout 4. Yoga Firm
Each workout contains 3 different levels of difficulty for each exercise.
Level 1. Beginner modifications
Level 2. Intermediate modifications
Level 3. Advance modifications
For best results, we recommend using this program three times per week for one month.
That's a total of just 12 times.
Will you join me?
At a minimum, try to do each workout once per week.
When doing each workout, try to follow along to me as best as you can. If you need an easier variation, look over to John, whom you will see on your left-hand side. He will be showing the level 1 modifications for beginners. If you are ready to challenge yourself with a more advanced modification, look over to Veronica, whom you will see on your right! She will be showing the level 3, advanced modifications.
We recommend doing each workout at least 3 times before moving on to the next routine. You should be comfortable doing the advanced modifications before moving on.
Read more about the 4 routines below.
Depending on your fitness level, most folks should get started with either Workout 1 or Workout 2.
Workout 1. Yoga Core.
This is our introductory workout. All poses are done seated on a chair. We introduce breathing, muscle activation, gentle core strengthening exercises, seated dynamic movements for shoulder mobility, and gentle hip openers to reduce lower back pain.
Workout 2. Yoga Move.
The second workout continues to build on core strength, continues with dynamic movements for joint health and shoulder mobility, expands on poses that help alleviate back pain, and introduces standing exercises to work on balance – though we give you the option to remain seated for all exercises.
Workout 3
This workout introduces traditional yoga poses with safe and gentle modifications. In this routine you will start to build strength and flexibility through standing exercises while working on balance and core strength. All exercises are done with the assistance of a chair. The chair is there for you to raise the ground a little higher and to offer you support as we explore new balancing poses.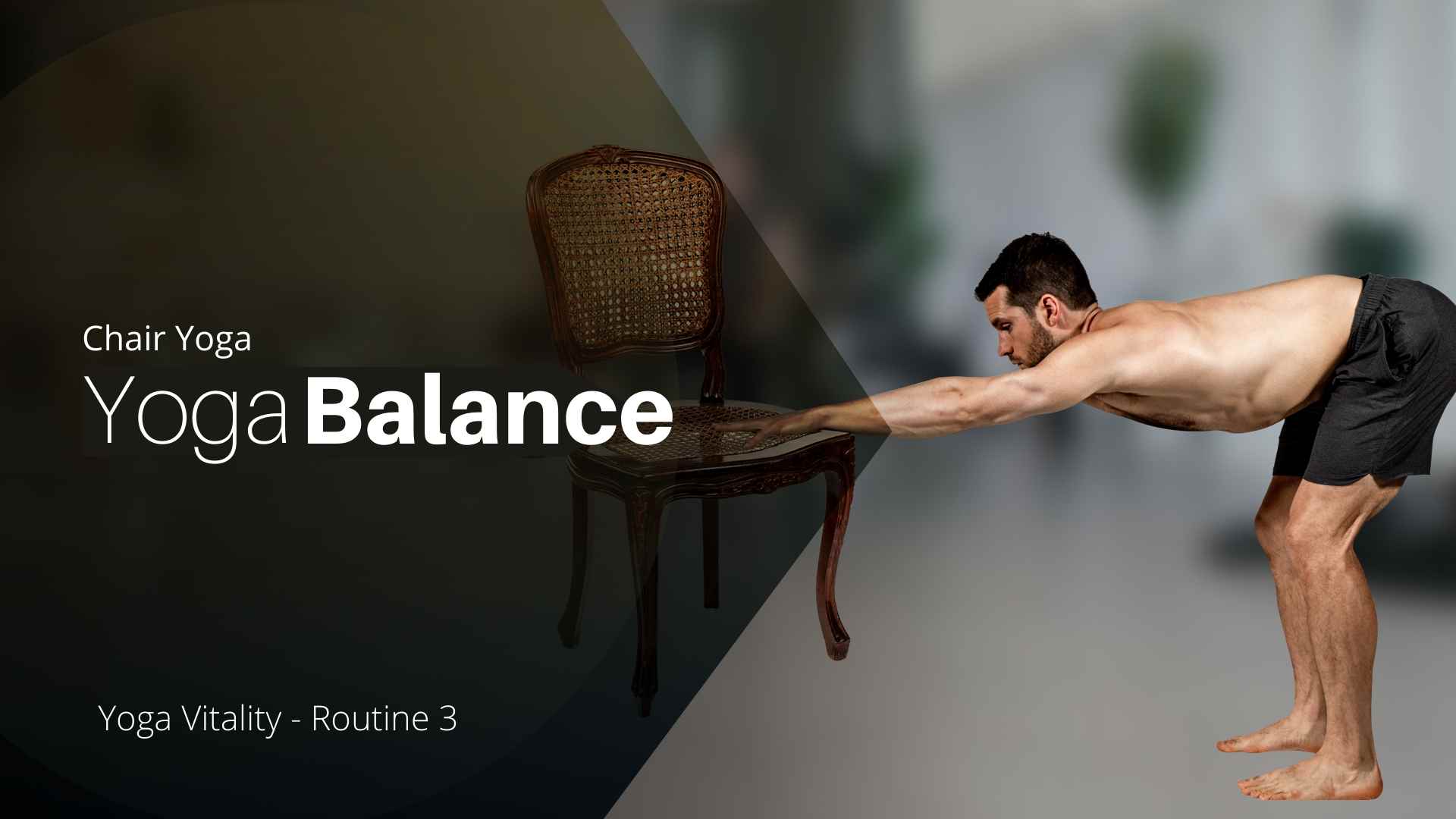 Workout 4
Our final workout will prepare you to take yoga classes in your local studio, gym, or health center by showing you how you can continue to modify poses with a yoga block instead of a chair. This class starts to resemble a more traditional yoga class but still provides you with the safe and gentle modifications it you need for your level.
Here is a sample schedule:
Week 1
Monday – Workout 1. Yoga Core. Level 1. Beginners Modifications
Wednesday – Workout 1. Yoga Core. Level 2. Intermediate Modifications
Friday – Workout 1. Yoga Core. Level 3. Intermediate Modifications
Week 2
Monday – Workout 2. Yoga Move. Level 1. Beginners Modifications
Wednesday – Workout 2. Yoga Move. Level 2. Intermediate Modifications
Friday – Workout 2. Yoga Move. Level 3. Intermediate Modifications
Week 3
Monday – Workout 3. Yoga Balance. Level 1. Beginners Modifications
Wednesday – Workout 3. Yoga Balance. Level 2. Intermediate Modifications
Friday – Workout 3. Yoga Balance. Level 3. Intermediate Modifications
Week 4
Monday – Workout 4. Yoga Firm. Level 1. Beginners Modifications
Wednesday – Workout 4. Yoga Firm. Level 2. Intermediate Modifications
Friday – Workout 4. Yoga Firm. Level 3. Intermediate Modifications
Yoga Vitality welcome video:
Yoga Vitality benefits:
About The 4 Levels: